Ivan Spills About His Weekend Date With Paul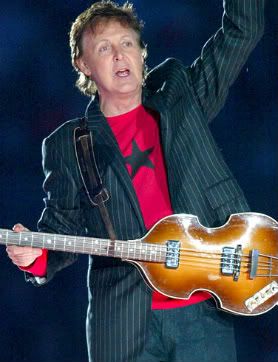 I know I'll never get the chance to see The Beatles live, but when Paul came to town I felt like I came pretty close to it after watching him perform at Fenway Park in Boston, Mass. on Thursday night.
The place was absolutely packed with fans. He kicked off the evening just before 8 p.m. and played for two and a half hours. McCartney mostly played Beatles songs, and performed mostly on bass, but he did mix it up on the guitar and piano throughout the evening.
He started off the show playing "Drive My Car," and then "Jet."
He mixed up his set with songs from The Beatles and some from Wings. Everyone was digging his tunes, but people were absolutely going nuts for his Beatles songs.
He included a little jam of "Foxy Lady" by Jimi Hendrix and also played "Something" which was originally sung by George Harrison. The song was played with a slide show running in the background featuring pictures Harrison with Paul and The Beatles which served as a tribute to the late artist.
At the end of his set he played a beautiful rendition of "Live and Let Die," complete with a fireworks display, and it was absolutely amazing. Then he played "Hey Jude." At the end of the piano-driven tune he stood up for the whole crowd and everyone was up singing the La-La-la-la part. We were all singing for a long time until finally he went back to finish the song.
Completely satisfied and mind blown, I thought the show was already great. But then Paul came out for more. After "Hey Jude" he came out for an encore and played "Day Tripper," "Lady Madonna," and "I Saw Her Standing There."
He then came out for a second encore and played "Yesterday," "Get Back," "Helter Skelter," and "Sgt. Pepper's Lonely Hearts Club Band/The End."
Here is the set list for Boston, August 6:
Drive My Car
Jet
Only Mama Knows
Flaming Pie
Got to Get You Into My Life
Let Me Roll It/Foxy Lady
Highway
The Long and Winding Road
My Love
Blackbird
Here Today
Dance Tonight
Calico Skies
Mrs. Vanderbilt
Eleanor Rigby
See the Changes
Band on the Run
Back in the U.S.S.R.
I'm Down
Something
I've Got a Feeling
Paperback Writer
A Day in the Life / Give Peace a Chance
Let It Be
Live and Let Die
Hey Jude
Encore 1
Day Tripper
Lady Madonna
I Saw Her Standing There
Encore 2
Yesterday
Helter Skelter
Get Back
Sgt. Pepper's Lonely Hearts Club Band / The End